Products We Handle [Model change of "ZEISS MICURA"],
high-accuracy coordinate measuring machines
The ZEISS MICURA series, high-accuracy coordinate measuring machines manufactured by Carl Zeiss and sold by Tokyo Seimitsu, have recently undergone a model change.
ZEISS MICURA was first released in 2012 under the concept of "Small in Stature, Big in Performance" and has been used for a wide range of precision measurement for small parts, including precision gauges, jigs and tools, industrial and medical equipment parts, and electronic components. It is a measuring machine specialized in contact-type measurement, and its "active scanning" technology, which maintains a constant measuring force, enables scanning measurement at high accuracy and high speed. A stylus with a minimum ball diameter of φ0.3 mm can be used to allow for measurement of small workpieces in details.
In this model change, the hardware has been fundamentally reviewed and new options have been added to further improve measurement reliability and efficiency.
1.
Hardware that produces high accuracy
While maintaining the guide support by air bearings in the four directions and the floating scale retention system, the main body structure has been fundamentally reviewed, and an active damping system that prevents vibration from affecting accuracy and a high-resolution scale have been newly added.
2.
Newly supports a rotary table (optional).
This option enables 4 axes scanning measurement that synchronizes the 3 axes of the measuring machine with the rotation axis of the rotary table and is highly beneficial in that it achieves high-accuracy measurement of intricate shapes and reduces stylus cost as well as measurement time by reduction of stylus change frequency.
3.
Reduced running costs
In addition to ZEISS AirSaver, an air supply idling stop function, ZEISS PowerSaver, which reduces power consumption with an automatic power on/off timer function, comes standard.
ZEISS MICURA, the compact yet high-performing coordinate measuring machine, is the ideal contact measurement solution for high-level quality control of small parts and solves your measurement challenges.
Tokyo Seimitsu intends to keep stepping up its product lineup to address a vast variety of measurement needs of customers.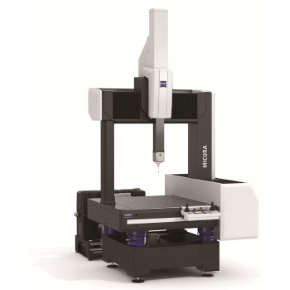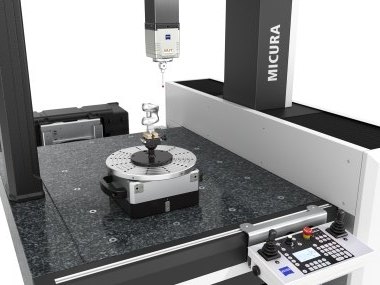 Measuring range
X×Y×Z

Max. permissible error of length measurement
E0, MPE *L(mm) represents an arbitrary measuring length
ZEISS MICURA

500×700×600 mm


0.7+L/400 µm (19~22 ℃)
For details about this product, go to:
If you have any question about our products, contact:
Marketing Department, Metrology Business Development Division, Metrology Company, Tokyo Seimitsu Co., Ltd.
Address
:4, Higashi-Nakanuki-machi, Tsuchiura-shi, Ibaraki 300-0006, Japan