In March 2022, Tokyo Seimitsu expressed its support of the recommendations of the Task Force on Climate-related Financial Disclosures. We consider rising temperatures, increasingly severe natural disasters, and other phenomena caused by climate change to pose a major risk to our business as well. On the other hand, we believe that addressing climate change will lead to increased corporate resilience and product competitiveness, as well as provide opportunities for business expansion. We will analyze the risks and opportunities that climate change poses to our business, share and work to unfold issues, and promote the disclosure of climate-related financial information based on the TCFD framework.

* See the latest information on our Website
The Tokyo Seimitsu Group considers climate change a major business threat.
The Sustainability Committee discusses ways to control risks and opportunities related to climate change issues and reports results of the discussions to the board of directors on a regular basis. The Sustainability Committee is chaired by the Representative Director & CEO. Its activities are reported to the semiannual Sustainability Promotion Meetings, and the report is submitted to the Board of Directors if deemed necessary by the Chairman. The board members collect information and deepen their knowledge through various opportunities and means to grasp the ever-shifting climate change situation. The Board of Directors share the issues of risks and opportunities related to climate change, discuss goal management and problem solving, and plan to outline our medium- and long-term GHG (Greenhouse Gas) reduction policies through TCFD Response Projects in the future.
The Sustainability Committee is responsible for arranging, formulating, planning, and implementing sustainability activities, specifically promoting the following activities.
Formulation of basic policy, operational framework, and goals as well as monitoring of information
Establishing and managing plans and projects
Summarization of information, reports to the Board of Directors, etc.
Matters related to various reports and information disclosure
Convening and operating a sustainability promotion council
About projects for responding to TCFD
These projects are led by the Sustainability Committee and attended by the related personnel of the production, sales, and management departments. Members of the projects research
and discuss climate change and submit reports to the Committee periodically.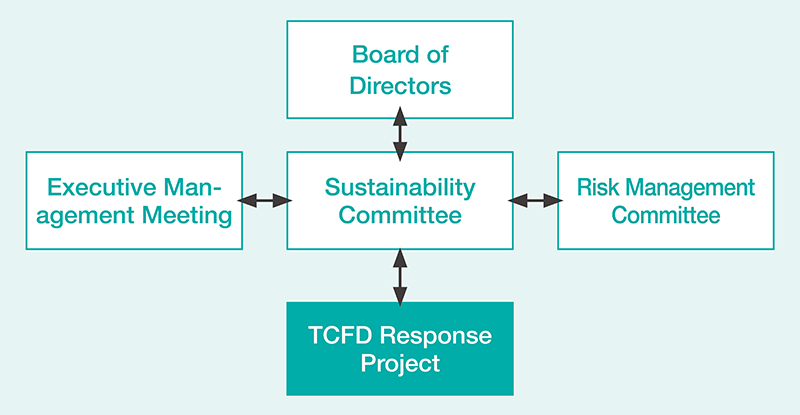 The projects for responding to TCFD research and discuss climate change-related risks (transitional/physical). They submit reports to the Sustainability Committee on a regular basis and whenever there is an urgent need to do so. Risks considered to affect business are relayed immediately from the committee to the board of directors for judgment. Such information is also shared with the Risk Management Committee, which is responsible for business risk management, to ensure that appropriate measures are implemented on a company-wide basis.
We conducted a Scope1 and Scope2 emissions analysis of Tokyo Seimitsu's domestic businesses. We will continue to monitor the GHG emissions of Group companies in Japan and overseas, and plan to respond accordingly. In the future, we will investigate the Scope3 emissions, including those of suppliers.
Since future projections are highly uncertain and difficult to analyze, we examined GHG emissions based on multiple scenarios. International public opinion is moving toward the view that a 2℃ scenario response is insufficient, so we conducted our analysis with a 1.5℃ scenario in mind. However, as a 1.5℃ scenario response would dilute our awareness of physical risks, we also assumed a business environment under the 4℃ scenario, the level to which temperatures would rise if current economic activity were to continue.
* Reference scenarios
1.5℃ scenario : [IEA] NZE, 1.5℃ special report [IPCC] SSP1-1.9
4℃ scenario : [IEA] STEPS [IPCC] SSP2-4.5, SSP3 - 7.0
In addition, based on the results of the analysis of environmental risks and opportunities, we decided on the following actions to be taken in the medium- and long-term bases.
1.
Organize and address the overall picture of climate change (including internal management system and disclosure of Scope1 and Scope2 emissions reductions)
2.
LCA Scope3 (including coordination with customers and suppliers)
3.
Exploration of new business areas
4.
BCP enhancement, starting with our response to climate change
Scenario
Risks
Opportunities
Event
Assumed Business Environment
Financial Impact
Emergence Timing

1.5℃

Risks

Regulations
Carbon pricing

Rises in costs of materials, equipment, energy, transportation, etc. due to the introduction of a carbon tax

Restrictions on product exports due to the introduction of a carbon border tax

▲▲▲
Medium term

Markets

Use of EVs

Decrease in demand for the conventional business and products (measuring instruments for internal-combustion engine parts)

▲▲
Medium term
Decarbonization premiums

Decarbonization resulting in surges in material costs, difficulty in procurement, and extra costs being incurred to procure alternative products

Difficulty in procurement of non-fossil energy and rise in procurement costs

▲▲
Medium term
Reputation
Delayed decarbonization efforts

Delays in climate change action and other ESG efforts affecting financing and business relationships

▲
Medium term

Opportunities

Markets

Use of EvsElectrification/digitalization

Growing demand for measurement of new EV materials and parts Increased use of semiconductors leading to increased production capacity

▲▲▲
Medium term
Growing renewable energy markets

Growing demand for measuring instruments due to expanding renewable energy markets

▲
Long term
Resource efficiency energy
Production equipment

Energy-saving measures in factories (equipment and processes) and recycling ofresources leading to increase productivity and meet the customer need for decarbonization

▲
Short term

Products services

Low-carbon products and services

Enhance the product reputation and competitiveness on the market by reducing environmental impact from the LCA perspective

Meet the customer need for lighter products (increase demand for measuring products)

▲▲
Short term

4℃

Risks
Physical(acute)
Extreme weather events

Increase in risk control (BCP) costs

Disaster-caused physical damage and recover costs

Disaster-caused business operation suspension (of the company or suppliers)

▲▲▲
Medium term
Opportunities
Resilience
Disaster response

Stable supply of products and services during disasters to help customers maintain their production systems

▲▲
Medium term
Legend : Financial Impact: ▲▲▲ Large, ▲▲ Moderate, ▲ Small Emergence Timing: Short term 2022-2024, Medium term 2025-2029, Long term 2030-
By 2030, we aim to reduce our CO2 emissions by 50% compared with fiscal 2018 levels.
At time same time, it is expected that the demand for semiconductors will continue to expand in the future. To meet these needs, the Tokyo Seimitsu Group is planning to expand production capacity. Although energy consumption is thus expected to increase, we will promote decarbonization efforts by utilizing low-carbon energy sources, including renewable energy, in addition to mounting energy conservation efforts.
Toward the Reduction of Greenhouse Gas Emissions
Since the majority of greenhouse gases (GHG) emitted by the Company are from the CO2 equivalent of electricity purchased to operate its plants. As a global warming prevention measure, we are focusing on activities for conserving electricity.
Result CO2 Emissions and Targets for FY2023


Previous five-year plan
Previous five-year plan
FY2018
FY2019
FY2020
FY2021
FY2022
FY2023 (plan)
Emissions (t-CO2)
12,312
11,982
9,524
8,191
8,257
10,900
Electric power used (MWh)
25,765
25,448
28,843
29,835
29,546
35,580
CO2 emissions
production volume intensity
(t-CO2/million yen)
0.160
0.191
0.129
0.080
0.074
ー
Organizations covered Tokyo Seimitsu Co., Ltd. (non-consolidated basis)
* In 2021, we revised our reduction target and extended the period by one year.
Environment・Society・Governance